CARRIETON - 16th November, 2014
Race complete. Results available.
Liberation Report
The 1097 pigeons competing in todays race from Carrieton were released at 7.00am.It was a cool clear morning with 20% high broken cloud and with a 10 kmh SSW wind.Upon liberation the birds grouped and left well ,they were out of sight in 4 minutes.
The purpose of The Victorian Homing Association is
The protection and improvement of Homing Pigeons and the encouragement and conduct of Federation Races.
The regulation of the sports of pigeon racing and the showing of homing and other pigeons.
The regulation of all apparatus or appliances applicable to the sports of racing and showing of pigeons and the management and care of pigeons.
The protection and advancement of the interest of the members of the association in all matters connected with the said sports.
Fees
Dear Members,
Please note that Up Front Fee nominations are due this week.
If you happen not to race this weekend, please contact you club secretary with your nomination.
Payment is not required until basketing night of the 1st Hay race.
PRESS RELEASE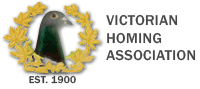 PRESS RELEASE
From the Department of Environment and Primary Industry
Source: Yoni Segal
Message
Please circulate to your members Press Release 5 December 2014 Pigeon Paramyxovirus (PPMV 1) has recently been confirmed in pigeon lofts in different locations in Victoria, affecting unvaccinated birds. The infection appears to be identical to PPMV-1 strains circulating in Victoria, NSW and Queensland since 2012, with similar clinical signs. The affected birds have been lethargic, not flying, vomiting a white tinged fluid and then dying within three days. The lofts of affected pigeons had not been vaccinated as there had not been recent outbreaks of the disease in Victoria. These incidents are a timely reminder that pigeon Paramyxovirus is considered endemic in the eastern states of Australia. The Department of Environment and Primary Industries advises Victorian pigeon keepers that to protect the health of their birds, they should apply effective biosecurity measures and maintain regular vaccinations, even in the absence of disease reports. Effective biosecurity measures include preventing contact with other racing, fancy and wild pigeons, both directly and indirectly, for example via feed and water. It also recommended that pigeon keepers; . maintain a clean loft and disinfect equipment used to house, transport, feed or water other birds; . prevent feed and water being contaminated by other birds or their droppings; . limit visitors and disinfect your footwear and wash your hand and clothes if you visit other lofts.
For more information about Pigeon Paramyxovirus please visit DEPI website at: http://www.depi.vic.gov.au/agriculture-and-food/pests-diseases-and-weeds/animal-diseases/vetsource-information-for-vets/pigeon-paramyxovirus-information-for-veterinarians
PLEASE BRING THIS MESSAGE TO THE ATTENTION OF YOUR FELLOW MEMBERS NOT ON EMAIL
D.M.Crosbie
Secretary
Victorian Homing Association Incorporated
6th December 2014