BLINMAN - 6th November, 2015
Race complete. Results available.
Liberation Report
The 369 VHA,48 Gipps,17 VPO,4 VRPU,(total of 438 birds) were liberated at 7.10am.There was mainly blue sky with about 20% high cloud mainly in the East,there was not any ground wind but it appeared by the clouds that there was a Westerly drift.Upon liberation the birds grouped and gained height and after about 5 minutes they lined out and went for home.Good Luck.(Coords -31 05 31 , 138 40 37)
The purpose of The Victorian Homing Association is
The protection and improvement of Homing Pigeons and the encouragement and conduct of Federation Races.
The regulation of the sports of pigeon racing and the showing of homing and other pigeons.
The regulation of all apparatus or appliances applicable to the sports of racing and showing of pigeons and the management and care of pigeons.
The protection and advancement of the interest of the members of the association in all matters connected with the said sports.
Fees
Dear Members,
Please note that Up Front Fee nominations are due this week.
If you happen not to race this weekend, please contact you club secretary with your nomination.
Payment is not required until basketing night of the 1st Hay race.
VALE: Ken Letch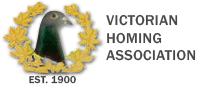 Dear Members,
It is with sadness that I have to inform you that Ken Letch passed away on Tuesday morning.
Ken was a Life Member of the Victorian Homing Association and served as the Springvale Club's Secretary for many years.
Many of us will remember that high pitched voice at the Pigeon sales.
The VHA delegates will miss his Christmas greeting message at each December meeting.
Henry.
A Service to Celebrate the life of Mr Kenneth (Ken) Edmund Wilson Letch
Will be held in the Chapel of Refection, Springvale Crematorium
on FRIDAY (Nov. 27, 2015) at 3.45 p. m.